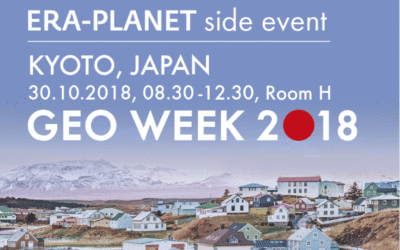 The European Network for Observing Our Changing Planet (ERA-PLANET) Consortium will held a Side-Event at the GEO WEEK 2018 in Kyoto, Japan on 30 October 2018. In the last decade asignificant number of projects and programmes in different domains of...

GOS4M will provide mercury speciation measurements (Gaseous Elemental Mercury, Gaseous Oxidized Mercury and Particle-bound mercury) along with a set of ancillary data through advanced web services.
The activity under GOS4M will run throughout the tasks described inside this page.

Engagement with relevant user communities and other stakeholders is of crucial importance for this Flagship, making sure its objectives are in tune with the real-world problems and its results provide adapted solutions.

The Global Observation System for Mercury (GOS4M) Flagship has a strong foundation on the outcomes of the former GEO Task HE-02 "Tracking Pollutants" established as a part of the 2009-2011 GEO Work Plan.

One of the priority goal of the flagship is that contributing partners and representatives of existing monitoring networks and programmes actively support and provide direct guidance to the effort.

The GOS4M can support the Minamata Convention implementation. Article 19 states that all monitoring activities related to mercury in environment and human health should build on existing monitoring networks.
Contributing Programs & Networks